"It'll never be quiet again in the library!"
"It'll never be quiet again in the library!" It's a popular saying in our organization and in 2019 it proved to be true in all areas. Of course the library was buzzing with all sorts of activities the past year, not only within, but also outside the branches.
Every week we work to promote language and reading at more than eighty locations within our district. This takes place through the Bibliotheek op School (dBos) (Library at School), and BoekStart (Book Start) in the childcare centers.
We also offer support to many high schools through projects associated with profile assignments, research skills and media literacy. The taalhuizen (language houses) continue to prosper and grow and through innovative projects they are able to help even more people with low literacy skills. Our branches continue to welcome a steady stream of visitors who borrow books, read newspapers/magazines, or attend lectures or other activities. It was not only busy with activities for the residents in our four districts, but also within our own organization in 2019. More on this in the section on Organization. A glance at the list of contents in this annual report shows that the Kennemerwaard Public Library is in full swing. We truly hope this annual report will give you as much inspiration as we've had in our work. I know that I also speak on behalf of my colleagues when I say that the interaction we have with our visitors, the children, adolescents, adults and the aged, on a day-to-day basis, continue to inspire us to position the library in the heart of the community, in every possible way. It's a place that's obligation free and open to all, with staff who challenge and invite you, and give you that spark of inspiration to continue to learn and develop.
Erna Winters
Director Kennemerwaard Public Library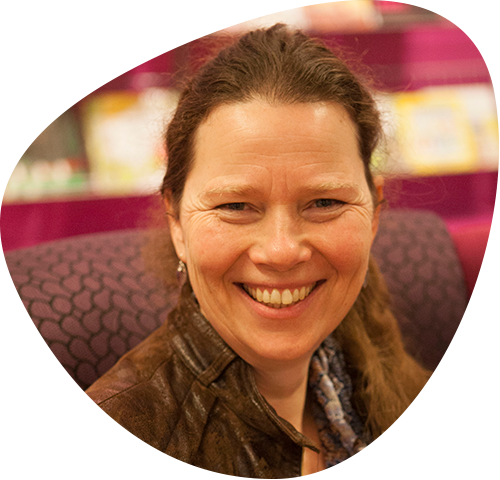 Erna Winters